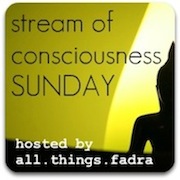 Today's (Optional) Writing Prompt: How do you feel about change? Do you like routine and predictability? Does it bring you comfort or discontent? Talk about it general or tell us a specific story about a big change in your life and how you feel about it.
Yesterday some friends and I were talking about evolution and, without getting into monkeys or apes or anything like that,  I will admit that I grabbed on to E's statement that life is like a series of many mini evolutions and I ran with it. The way things are done changes. The fashions evolve, your thinking evolves. *MY* thinking has evolved and some things that I was certain of before have now been replaced with things that I just don't need anymore.
As I've been thinking of my own evolution; it's time for Rachee to make some changes and even though I don't want to, I know that in the end that things are going to work out for the best. It's scary starting anything new. I like the familiarity of routine, I like knowing what to expect and the thrill that comes with the new often intimidates me. I also like the delicious thrill when a Eureka moment happens, the click that signals that something good has happened and that I've got it. Slowly I've been seeing a transformation from the old familiar to the unexpected and it's not quite as scary or horrifying as I thought. I am excited about the possibilities that something new will bring and I can even understand that while change is change is change it doesn't have to be a negative and the positive will be the result.
I'm not ready to share yet but just know that a change is a coming and it's gonna be OK.
-r

This was my Stream of Consciousness Sunday post. It's five-ish minutes of your time and a brain dump. Want to try it? Here are the rules…
Set a timer and write for 5 minutes. 

Write an intro to the post if you want but don't edit the post. No proofreading or spellchecking. This is writing in the raw. (See above)

Publish it somewhere. Anywhere. The back door to your blog if you want. But make it accessible.

Add the Stream of Consciousness Sunday badge to your post.

Link up your post on Fadra's site.

Visit your fellow bloggers and show some love.