Today Fadra's Writing prompt has me stumped. She has challenged us to write about the  things in our lives that we just don't want to do. For sure there are a plethora of things that I could write about but it seems indulgent and extravagant to seemingly whine over the things that seem to be a Rachee problem. I have been all whiny, whinny, boo, boo in posts in the past or in person but for some reason I hestitate today to put my thoughts into words. Sometimes when I am sharing a problem with a friend or relative and they are all like, "But you shouldn't feel that way! You should be happy that you are alive/healthy/working/(fill in your own I should)" I just want to run as fast as my poor lungs will allow and scream that my blues are my blues, something about walking in MY shoes and something about crying with no feet.
It's not that deep but it is. And besides…it's me!
Gah!
So, as I think about the week ahead and the things that I need to be doing I get all whiny and wornout just thinking of a busy week ahead. Instead of hiding from my problems (something I am way to good at doing) I thought I would tell you what I don't want to do with the challenges that I encounter.
I am not going to let the past dictate what my future is. As a youngin (and not quite so youngen) I made a few mistkaes that vary in degree of positive (The Bee…she is NOT  a mistake. Her dad…another story) and negatives (STILL not ready to talk about THAT) and there are days when I let these moments in my life dictate who or what I am.
I am not going to bet myself up for wanting that cookie, piece of cake, and actually eating them. Yes, yes I know. My waist line has expanded so much so that people feel the need to ask me when I am due but sometimes I just want a cookie. Guilt free and delcious.
I am not going to hold my tongue. I have spent years trying not to make waves. I don't want to be Angry Black Girl or that head rolling sister we all see and television loves to exploit. I try to fly under the radar, have perfected the low profile and generally try to keep it all kittens and rainbows but sometimes enough is enough. I am not looking for a fight but best believe that I am not going to turn tail and run.
I am not going to put off tomorrow what was due last week. I am a terrible procrastinator. It's like its a mental thing. I will have everything I need to do in front of me and will…wait. For what, I dunno but I wait and wait and the next thing you know I am rushing about like a crazy woman.
I am not going to beat myself up for my terrible procrastination. It happens. It sucks. I'm aware and I am going to just deal.
I am going to have a good week and will read everyone's posts and perhaps today, comment.
Not, not gonna do it,
-r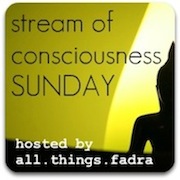 This was my Stream of Consciousness Sunday post. It's five-ish minutes of your time and a brain dump. Want to try it? Here are the rules…
Set a timer and write for 5 minutes.

Write an intro to the post if you want but don't edit the post. No proofreading or spellchecking. This is writing in the raw.

Publish it somewhere. Anywhere. The back door to your blog if you want. But make it accessible.

Add the Stream of Consciousness Sunday badge to your post.

Link up your post on Fadra's site.

Visit your fellow bloggers and show some love.