or the lights in the library have clouded my mind!
Twitter, once again, has led me to another meme that seemed to be speaking to me. Shell at Things I Can't Say offers this weekly link up to post about the things that one may feel strongly about and for me, it's something that is on my mind and I just want to let go.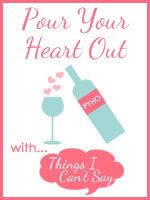 The last few weeks at work has been a bit nerve wrecking. I have been seeing the cutest babies and toddlers, treated to unsolicited kisses and hugs and the baby drool has driven me to almost entertain something that I swore I would never do: have another baby.
Sure, babies are just a part of the child rearing process which is why I realize my babylust is a phase but its something about gooey kisses, gummy grins and the smiles that light up the faces of a baby that makes me want to shuck my 'one per household rule' and have another kid.
The Bee would be delighted. She does have a sibling from The Dad and while she sees her sibling often it's not as often as she would like. In her mind a sibling from mom would be available more regularly and she would gladly fill the role of big sister.
Effin' Guy has no kids and we've had the 'If this were to get serious' discussion in which I have absolutely- positively-no-way-Jose declared that kids are not in the future. As of this post, he is agreeable to my wishes and there is no pressure from him for me to change my mind but as the cuties come in dressed in overalls, socks that fit in the palm of my hand and hats that match sleepers covered in hearts or trucks (Squee!) I find my heart melting, me forgetting the dread I feel when Leaky calls to ask if I can watch Arboo and thinking maybe, just maybe the sweet peels of laughter and the laundry loads with 55 shirts that still doesn't fill the washer* may be my future.**
And then Liliana does something like yak up a half eaten silly band and reality comes crashing back in. Until Tuesdays and the vicious cycle starts again.
Just saying no,
-r
*Slight exaggeration
**Run on sentence but it was cool to type