Don't judge me; I just found this meme.
Ahem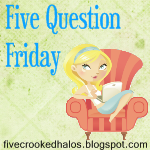 So I saw this meme on another blog and decide to join in. I apologize for blasting you all with so many posts but what has happened was I had a busy end to my week and that's my story and I'm sticking to it.
Anywho, I was looking at Monday Listicle link ups and found this prompt for Five Questions from the blog My Little Life.
Rules for 5QF: Copy and paste the following questions to your blog post, answer them, then watch for the linky post to appear Friday morning and LINK UP!
1. Where do you hide things from your kids at?
Let's see…the car. Her room…plain sight. 
Seriously, my kid walked right past a birthday gift throughout the month of February. I won't lie; I was to lazy to put them up and when I thought  the gig was up threw in the towel. Upon realizing she was blissfully unaware just let it be.

2. What is your favorite rainy day activity for bored toddlers?
I have no toddlers but for my library kids lots of stuffed animals and books.

3. Are you a punctual person or are you always running a few minutes (or more!) late??
Bwahahahahahahahahahahahaha

4. When eating out, do you prefer off the beaten path "Mom and Pop" cafes or tried and true national food chains?
Depends. If mom and pop look like a health code violation then sis is out!

5. Does your significant other snore? Do YOU snore?
I don't snore. 
Effin Guy snores which I only know because he fell asleep on my couch one evening. 
Ahem. 
That's my five!
-r