The Bee's Girl Scout Troop leader saw a hat I made (it was made for me but The Bee stole it, was wearing it) and has been asking me to show the troop how to crochet. I was nervous; my attempts to show The Bee have been described as disasterous at best but, wanting to help, I borrowed a How to Video from the library and pulled all my books to find information for the girls.
It wasn't quite the disaster I had imagined. The troop picked up really quickly and some even knew how to crochet and were able to help. The Bee showed some of her troop how to finger weave and I was feeling pretty good.
Some thoughts for teaching:
Have small class sizes
If its a beginner's class the ratio for me needs to be one to one, three at the largest.
The girls would see my hook dipping in and out of stitches and think it looked so easy. When they weren't able to pick it up as quickly they became frustrated and wanted to stop.
Have plenty of yarn and hooks that you don't mind giving away.
The troop leader has supplies but like your blogger is in need of a major spring cleaning (her words, not mine!). I brought some hooks and yarn taken from my stash for the girls to use but at the end of the day some of tehm wanted to keep the hooks and things got a bit messy. The yarn I had no problem sharing but the hooks, well, let's just say there was a few whines and the like going on.
Visuals help!
I brought a video for the girls to look at, copies of stitch guides thatI have used as well as my demonstration. Some girls picked one form and really went with it. Some were once again easily frustrated and quit.
My book of choice is Kids Learn Crochet by Lucinda Guy. The instructions are clear, very easy to understand and the troop really liked it. They were also fans of the stitch guide from the back of Crochet! magazine.
Be patient!
I think because people think needlecrafting is some exotic thing or that it's just yarn and that anyone can do it when a beginniner can't get the hang of it right away they grow frustrated and want to give up. I kept making everyone take a deep breath and relax. (This also helped me stay focused)
Here are the ladies practicing: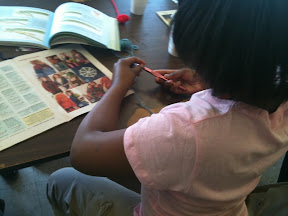 How is your NaCroMo going?
-r