Winter found me picking up a really bad habit. I would get home after my work day, do the evening routine, and then settle in for the night with my knitting and catching up on my shows. At first I had a regimen: work for an hour or so and then finish up for the night doing my decluttering routine and heading to bed. I took a few days off from work and there were a few days in which I had no commitments and had lazy days. I allowed myself to get off of my routine until my exception become my rule: I would find myself regularly binging American Dad episodes at 3AM and yawning, but refusing to go to bed.
Work was, well, work. Oh so sleepy and in a fog, drinking cup after cup of coffee to try to stay alert. I would go from task to task trying, unsuccessfully, in getting through the day only to repeat my behavior at night. One evening as I found myself drifting off on the couch, The Bee urge me to go to bed instead of staying up and I did. I had the best night's sleep I had had in a while and I was rested and the next morning I was ready to seize the day, or at least had the skills to deal with screeching children playing Dora games.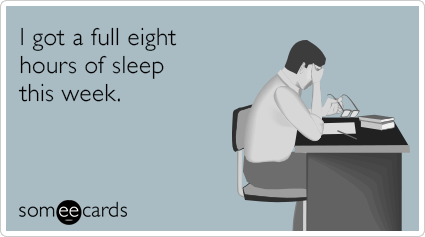 So when I was asked share and participate in Hyland's third-annual  Hyland's 5-Day Sleep Challenge, I was like, "Yes! They are talking to me!"
The plan is comprised of five challenges, one each day, that will supercharge your health by showing you steps you can take to ensure you get a great night's sleep, every night. Monday, March 16th through Friday, March 20th: Join us each day on the Hyland's Facebook page to receive your challenge. What could you be doing to help yourself get those much needed zzz's?
At the end of each day, share your story with Hyland and celebrate your success. Although great sleep is its own reward, for each day you participate, you will be eligible for a chance to win not only a daily drawing of fantastic products, but also one of 700 Hyland's Calms Forte' 32 ct. tablets.
Ten winners will be chosen at random each day.
It's free to participate in Hyland's 5-Day Sleep Challenge! Register today to achieve new, meaningful sleep practices in your life.
Want another chance to enter to win land Prize Pack from Say it, "Rah-shay"! Check out the contest below!
Contest deets:
This contest will run Thursday March 12th through Wednesday March 18th. This giveaway is for a price pack from Hyland's which includes:
Hyland's Calms Forte, 100 ct.
Hyland's Nerve Tonic, 32 ct.
Arnica 30X, 50 ct.
Muscle Therapy Gel, 3 oz.
Bioplasma Sport, 12 pack
Leg Cramps, 50 ct
Leg Cramps PM, 50 ct.
Restful Legs, 50 ct.
Winner will be notified by e-mail.
Good luck!
r's note: I was sent samples of products when invited to host this giveaway. All opinions and thoughts are my own.