As I have oft noted, when I started this blogging thing I wasn't sure what I was getting myself into. I knew that I wanted to write and thought it to be fun. So I wrote. My earlier posts are all over the place and that's OK. I wasn't sure what the heck I was doing, wanted to do and well, it was what it was.
Then I started peeping what ither people were doing and I wanted to be like Mike so I was changing the vibe of the blog some, a lot of it good and some, way too much veering towards bad and the blog writing and posting felt like a chore and I thought that I was going to drive myself crazy.
All the while I was still kinda peeping other blogs thinking "How'd she get that?" and "Why wasn't *I* asked for that?" and I could see that the idea of the blog was getting out of control. Always thinking about posts, trying to jump on every band wagon (owie!) and it was not for me. The thrill was fun but I was not having any of that fun and my posts, well sucked.
Reading through other blogs I have stopped looking at what "they" are doing and what they are writing and I am in the company of some talented women. Instead of me worrying about what buttons *I* should have I have been worrtyin about when they are going to post next because these folk can write! And I've noticed that since I've stopped coveting what the Mother Joneses have to what Say it Rah-shay has, its awfully awesome and its not a contest that I always have to engage and I like this again.
Time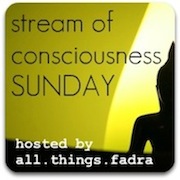 This was my lustful 5 minute Stream of Consciousness Sunday post. It's five minutes of your time and a brain dump. Want to try it? Here are the rules…
Set a timer and write for 5 minutes.

Write an intro to the post if you want but don't edit the post. No proofreading or spellchecking. This is writing in the raw.

Publish it somewhere. Anywhere. The back door to your blog if you want. But make it accessible.

Add the Stream of Consciousness Sunday badge to your post.

Link up your post below.

Visit your fellow bloggers and show some love.