Today's (Optional) Writing Prompt: Have you reached the prime of your life? What do you want to be your legacy?
I used to think 40 was old. I mean stay at home, curl up on on a couch and forget about it old. Of course at the time Ithought this I was a wee lass of 10 but even when I was older and more…seasoned I thought that 40 would be a time of settling. I thought that by the time I reached close to 40 I would have it all figured out: married, six kids (let us all laugh at that) and that I would be living in Hawaii as a nurse. A divorce, a few failed science classes later and here I stand rethinking where and when my next move will take me.
Now I am totally thinking that almost 40 is so the new almost 20. I know so many things now that my younger self was really too dumb or not ready to hear and understand. I think life is a series of changes. One person doesn't stay the same no matter what and the prime that you are in will change and reshape to fit the physical, emotional places that you are in.
I think about the person my kid sees. As she approaches being a tween I think that its good for her to see me changing from depressed can't get it together mom to go get her! You can and she dioes it mom. I think its important for her to see me try and fail and try and succeed. She doesn't and shouldn't be privvy to ebverything that is going on but I think she needs to see that there are good with bad and that it all is OK.
So for the prompt…yes I am reaching the prime of my life but its not a negative thing. I am reaching a point when I know thatit is ok to say no and to ask for help. I am feeling more confident daily and when I don't feel so hot I understand that there are things I can do to get back on track.
So if prime time is knowing what the heck I wanty and actually going for it then doggone it it IS the prime time of my life!
And now I've got this stuck in my head: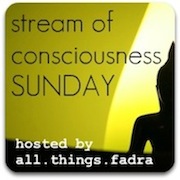 This was my "mature!" 5 minute(ish) Stream of Consciousness Sunday post. It's five minutes of your time and a brain dump. Want to try it? Here are the rules…
Set a timer and write for 5 minutes.

Write an intro to the post if you want but don't edit the post. No proofreading or spellchecking. This is writing in the raw.

Publish it somewhere. Anywhere. The back door to your blog if you want. But make it accessible.

Add the Stream of Consciousness Sunday badge to your post.

Link up your post to Fadra's site.

Visit your fellow bloggers and show some love.