r's note: This is totally going to be more than five minutes but I'm linking anyway cause that's how I roll.
Now then:
When I think of home
I think of a place where there's love overflowing
I wish I was home
I wish I was back there with the things I been knowing*
The house where I currently live is the same house that I grew up in. My grandmother's house still has the same bathroom tile that suddenly stops at the closet door because the contractor way back when never finished. I marvel at the peek hole in the front door, fondly recalling the times that Buffy and I would jump up and down trying to catch a glimpse of the person ringing the bell. But lately this house doesn't feel like home. It's merely a place to be until I figure out the next step.
Maybe there's a chance for me to go back there
Now that I have some direction
It would sure be nice to be back home
Where there's love and affection
And just maybe I can convince time to slow up
Giving me enough time in my life to grow up
Time be my friend, let me start again

When The Bee and I were living with my mom I had no idea that our stay would be so long. As the days turned to weeks Mom and I both realized that it was time for me to get out of the nest, stop hiding and move on. But it was scary and for some reason or another I would find a reason to delay the move and prefer to sorta get ready to move but really not doing anything to help it.
Suddenly my world has changed it's face
But I still know where I'm going
I have had my mind spun around in space
And yet I've watched it growing
I was 36 when I moved out on my own. Being married didn't count; I shared a house with the Dad and The Bee. So it was the ripe old age of 36 when I moved and was excited for the possibilities. My own space to do whatever with. Own house rules, own schedule. It is scary, heady and trippy. Empowering and often overwhelming but it's possible and I love that I can at least try.
Tell us, should we run away
Should we try and stay
Or would it be better just to let things be?

I've been trying to make house home but in reality I feel like a visitor. The Bee and I are up early and back home late. When we are home we are catching up on the things that need to be done to at least keep up quasi-civilized. I wonder if we are truly empowered as we hustle to and from out car, always rushing to the next thing? Should we slow down, spend time making a house a home or is it really better to let things be?
Living here, in this brand new world
Might be a fantasy
But it taught me to love
So it's real, real to me
And I've learned
That we must look inside our hearts
To find a world full of love
Like yours
Like me
Like home…
For now home is still my Mom's even though it's feels foreign the more I'm away. It's still homier than where I am now, familiar and a place that I am proud to lay my head.
For now.
-r
*Lyrics from The Wiz.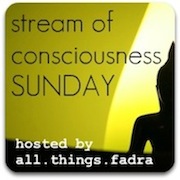 This was my 5 (plus a whole lotta)  minute(s) Stream of Consciousness Sunday post. It's five-ish minutes of your time and a brain dump. Want to try it? Here are the rules…
Set a timer and write for 5 minutes.

Write an intro to the post if you want but don't edit the post. No proofreading or spellchecking. This is writing in the raw.

Publish it somewhere. Anywhere. The back door to your blog if you want. But make it accessible.

Add the Stream of Consciousness Sunday badge to your post.

Link up your post on Fadra's site.

Visit your fellow bloggers and show some love.