Monday Listicles are back!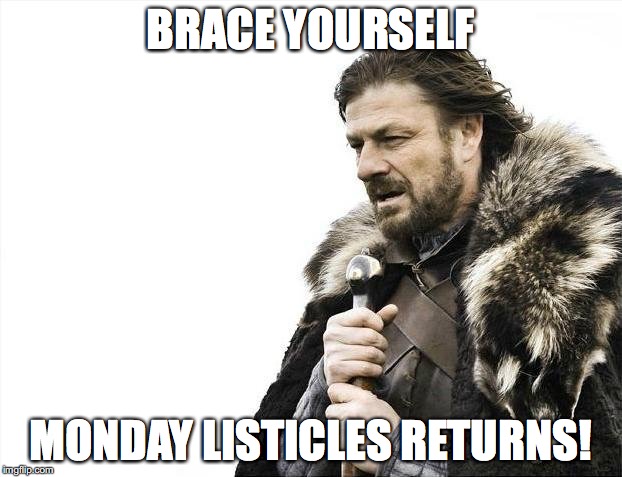 I used to regularly do a list of things on Monday but stopped because…reasons. I feel like I want to start again and here is the return to Monday Listicles!
What is a Listicle?
A list of anything you feel like sharing!
I like this article from Stir Up Media which explains the types of listicles out there. It's few years old but sums it up quite nicely!
---
Now here goes my Monday Listicles about Renal Disease.
The last two weekends have found a woman down. Tired, sore, achy…this new normal is a pain in the tuchus! I was trying to take a light approach to having a "CHRONIC ILLNESS" but after two weeks of early evenings, canceling plans, and discovering new ways to be sore…light is not a word I can use to describe my feelings.
Where is my hair?
At the beginning of summer I realized that I had not had to shave my legs for a few weeks. Groovy! With the exception of about ten hairs on my knee caps, my legs were smooth as butter! The meds I am taking have removed this step from my routine!
However…there is hair WHERE?
So the flip side of no hair is fuzzy face. I'm going to stop there because I need to find my razor.
I'm so tired…
Fatigue takes over the whole being and yawn…! My energy level is all screwy! In the morning I am all "Eye of the the Tiger!" but by 3pm I am struggling to keep my head up. I've been trying to keep my mornings full so afternoons can be lighter however I have found me loving that I have sick time so that I can slide out of work earlier to get home and nap.
…but I try to nap sparingly because the flip side (there seems to ALWAYS be a flip side) is me up and at 'em at 3/4 am everyday.
The first few times I was up in the middle of the night I tossed and turned until I drifted back off to sleep. Then I decided to make these middle of the night wake ups work for me and made was so excited to get a little something "for me" done but now…bah! Now it's a crapshoot. Some days I get things done, some days I am watching Netflix and wondering why Stan Smith is a jerk. I have been downloading audiobooks to listen to while I am up so I have been able to catch up with some reading and knitting but middle of the night..let's not meet like this, m'kay?
Bruising.
The combination of medication that I am taking causes me to bruise and then causes those bruises to take their sweet time healing…Hooray! I look like I do MMA in some underground ring on weekends.
So.Many.Freaking.Pills.
Yes, yes, yes…it could be worse but I reserve the right to fuss.
I am fussing about the chipmunk cheeks, the mood swings, being SO DAMNED HYPED!!
Did I mention that I am hungry all of the time? When I am up in the middle of the night one thought I usually have is what is a socially acceptable time to eat and is it ok to be frying an egg at 4am? (Yes. The answer is yes)
I'm salty
Well, not really as I have had to limit the amount of salt in my diet. I have mixed feelings. I love that I discovered ways to use the spices in my cabinet bt sometimes I miss the decadence of a salty piece of meat, a sprinkle of salt on my food and the crunch when I bite down into something that has those crystals of salt…(Hmm…salty goodness!)
Aches and pains and pains and aches
I really don't want to become that person but here I am. My knee hurts, my back hurts. I really did;t think I was a vain woman but Sweet Baby Back Ribs…I am icing and elevating like it's my job.
Cramps and Charley!
So did you know that you can get a Charley horse on your shin? Like the front of your shin so that if you flex your leg or try to put pressure on it you collapse into a heap?
Now you do.
I get cramps in my hand from the electrolyte imbalance. I get cramps in my foot. I get cramps in legs. arms. neck. So yeah, if I staring at you and doing weird breathing, I am not some creeper. I am trying to get my body to knock it off.
It's not easy but made so much better with support from my family.
When my mom was going through this, I was so angry with her. It wasn't her fault that she was sick but for some reason I needed to be angry at something and Mom was it. I can't go back and change the past but I can acknowledge that my reaction was messy, wrong and not helpful and try to be helpful going forward.
And that's it!
Whew! I suppose I had a lot to say!
Share your listicles with me.