r's note: I am a member of the Collective Bias®  Social Fabric® Community.  This shop has been compensated as part of a social shopper insights study for Collective Bias and their client.
This past weekend I was invited to attend the Italian Market Festival, an event right in my own backyard in Philly, and to be a part of the Mohawk Flooring License to Spill Tour. The Italian Market is a fantastic experience for the whole family and the Festival was a delight to the five senses with so much to see, to hear, to taste, smell and touch!
Here is my experience in five senses.
Sight:
I arrived early at the festival and had a chance to take stroll through the market as vendors still got set up. There were many crafters with a variety of art including, handmade knits, little tchotchkes for the home and even a stand where someone hand rolled cigars! (I am not a smoker nor do I advocate it but there was something cool about watching these men calmly and efficiently rolling cigars in the midst of the chaos surrounding the fair.)
Handmade scarves!
Sounds
From the Mohawk Booth I was able to boogie and dance to the mixes created by DJ Johnny Looch. His soundtrack for the festival made me fondly reminisce about being a youngster and evenings with my family We would sit on our front step with a radio playing softly through the window. The grownups would be chatting about grown-up things and the kids would be trying to remain as quiet and still as possible to remain outside and stay up past bedtime.
Taste/Smell
The Italian Market is full of delicious foods and places to get a great meal at a great price. As I tasted my way through the festival I was fortunate to experience a live cooking demo from Chef Peter McAndrews of Paesanos. The Better Show, which is a sponsor of the tour, featured Chef Peter making a delicious smelling Italian hotdog.  This sensory experience full of savory smelling sausages, grilled peppers and onions was as much fun to watch as chow down on (the completed sandwiches were available or us to taste later in the day!).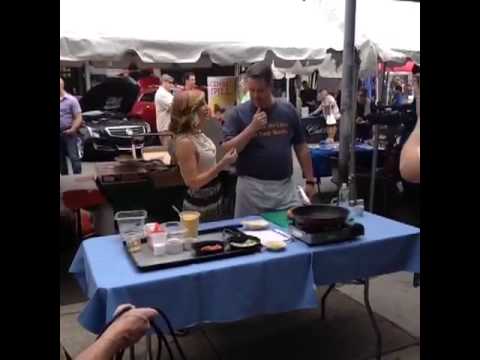 YouTube Video
There was also dessert available from Isgro Pasticceria. Rich creamy cannoli and chewy cookies were a crowd favorite.

Touch
The reason for my visit to the market, Mohawk Flooring, was a delight to my sense of touch. Their new SmartStrand carpet is very soft as it made with a seven hundred count fiber and easy to clean. During a demonstration in which soy sauce, kool-aid and red wine were were sprayed on the carpet, all it took was water to clean the mess! A second demonstration in which children mashed Italian sausages and cannoli into the carpet also was easily cleaned with a water and a rag.
When I asked about the ease in which the rugs were cleaned, one of the Mohawk reps, Seth Arnold, shared that with other flooring the chemicals used to treat the carpet to make it stain resistance eventually wear off, leaving the carpet looking worn. The SmartStrand technology in Mohawk flooring is built into the carpet and ill enable to the carpet to look fresh for years.
Also in attendance was Chip Wade from HGTV's Elbow Room who was happy to share tips and ideas with us about the carpet, room makeovers and kid stories.
Chip Wade from HGTV is a stylish proud dad
My house has hardwood floors, something I thought was the best option since my daughter suffers from asthma and allergies. We do have two area rugs and I would always welcome a third. Mohawk has great plush carpets that can be cut to fit the area that you need and is available from retailers throughout the area. For more info about Mohawk Flooring,please visit them online. Follow their tweets and see the next stops on their tour or check them out on Facebook.
One lucky reader will get to experience Mohawk  flooring! There is a giveaway on their blog, check them out at the Mohawk Tour blog page and enter for a chance to win a 6 x 9 area rug.
Good luck and enjoy plush walking!
Want MORE photos?
Check out my album on Google+!