Good afternoon all! Please accept my apologies for the lateness of this entry; my home PC is behaving badly and well, let's just say my usual access is blocked.

Anywho, I am proud to be a part of a terrific series of contests!  Now through September 12th at 11:59pm EST I will be participating in BlogFest 2010!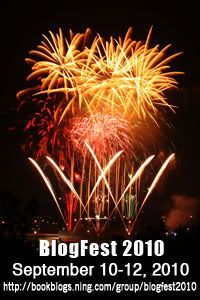 What is BlogFest?
BlogFest is a colassal one shot deal at fabulous swag* from a great collection of participating blogs. Each blog has a fantastic giveaway.  The idea is to hop from blog to blog, entering as many or all the giveaways as you can type.  Hopefully you might even come across a few blogs you might want to bookmark and continue visiting (especially this one….shameless aren't I?!?).


To find participating blogs go to A Journey of Books or click on the link (at the bottom of my post) for the next blog in the contest.



Ready for my giveaway(s)?
I love reading and have some wondeful ARCs to share!
Winners will be able to get ARCs of some awesome books:


Immortal Beloved
Jane by April Lindner
The DUFF by Kody Keplinger
(I may have one or two more that I will post later)




I love to crochet and have some wonderful yarny things to share!

 Yarny Things:
My favorite scarf to make is this lovely chunky one.  Winners will get a scarf to cozy in while reading the book of their choice.  (I make other yarny things to if this doesn't float your boat!)
Here is a picture:












Ready to enter?


Leave a comment for each entry – be sure that your email address is viewable in some way – if I can't reach you, you can't win!
This is a mandatory entry (must be completed or no other entries will count):


Extra entries:  – do as many or as few as you want (if you already do something, just leave a comment stating so)


Follow/Join me on Google Friend Connect (in bottom of the screen) – leave username in comment
Follow me on

Twitter

(rungirl1) (I'll follow you back!)
Subscribe to Say it Rah-shay in a reader (bottom of the screen)
Follow Say it Rah-shay blog on Networked Blogs – bottom of the screen 



Giveaway ends Sunday, 9/12/10 at 11:59pm EDT. Winners will be picked by random. Winner will have 72 hours to reply to my email. If no response in that time, a new winner will be picked. US only, 18 and over.




This contest is open to anyone who reads my blog and can use a good cuddle while reading!


Can't get enough?
Don't stop here!
Follow the next blog:
Young Adult Books Reviewed for more cool prizes and another awesome blog!
Good Luck!
-r




*The items being given away are FABULOUS!